Last Friday I purchased 50 shares of Johnson And Johnson (NYSE: JNJ) stock at $101.90 per share, totaling $5,095. This purchase will add $140 dollars to my annual dividend income. I now own 55.17 shares of JNJ stock in my Dividend Dreams Portfolio. This is one of many trades I have recently made with my 401k and Roth 401k rollover funds; I have also purchased Philip Morris, Aflac, AT&T, MetLife, Starwood, Reliance Steel, and Gilead Sciences.
An Overview of Johnson And Johnson
Founded in 1886 in New Brunswick, New Jersey, Johnson And Johnson has grown to become a leader in the health care industry. The Johnson And Johnson company structure is in research and development, manufacturing and selling a vast array of drugs, surgical supplies and general health maintenance products. Johnson And Johnson operates three business segments: Consumer, Pharmaceutical, Medical Devices and Diagnostics. JNJ has a large international presence with more than 250 companies operating in 60 countries.
Johnson And Johnson Dividends and Metrics
3-Year Compound Annual Growth Rate of 7.0%
5-Year Compound Annual Growth Rate of 7.4%
10-Year Compound Annual Growth Rate of 9.7%
Annual Dividend Yield of 2.73%
5-Year Dividend Per Share Average of $2.42
5-Year Dividend Yield Average of 3.22%
The chart below shows the past eight years of dividend increases for JNJ.
Is Johnson And Johnson Stock Fairly Priced
JNJ is currently trading at a P/E ratio of 17.93. F.A.S.T graphs shows that over the past five years the normal PE Ratio for JNJ has been 15.2. The chart also shows that JNJ has traded at a premium since February 2012. Although JNJ is currently trading above 15.2, the chart shows the Gap narrowing. JNJ is trading closer to normal P/E now that it has for the past two-years.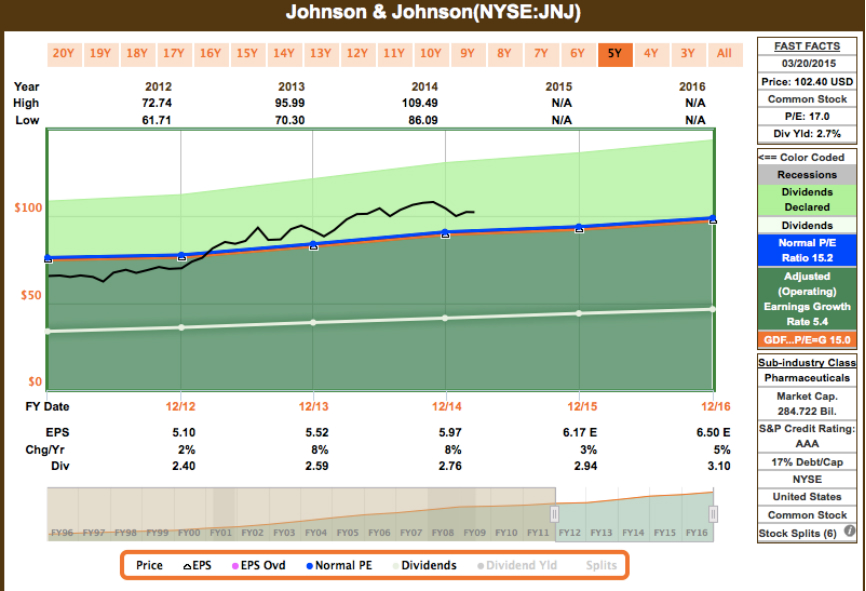 Morningstar ranks JNJ as 3-stars and overvalued with a share price estimate of $99. S&P Capital IQ ranks JNJ as 4-stars with a fair price of $102.40. Argus Ranks JNJ as a buy with a target price of $116.
I feel that JNJ is fairly priced at my buy price of $101.90. It is neither over or under valued in my opinion.
Johnson And Johnson Earnings Per Share and Sales Growth
1-year EPS Growth of 18.57%
5-year EPS Growth of 5.32%
1-year Sales Growth of 4.23%
5-year Sales Growth of 3.73%
Other Key Metrics
Dividend Payout Ratio — 47.50%
Gross Profit Margin — 69.40%
Operating Profit Margin — 27.66%
Net Profit Margin — 21.96%
Cash Flow Per Share — $7.06
Cash Per Share — $11.98
Johnson And Johnson Conclusion
Johnson And Johnson has a long history of generating results for investors. JNJ management keeps investors in mind. I do not see a reason why the future of JNJ will not follow the past. The company is dedicated to serving healthcare professionals, consumers and investors. JNJ has created a massive moat, which should shelter the company during lean years.
What is your opinion of Johnson And Johnson? Do you think JNJ will be able to continue to increase dividends?
Full Disclosure: Long JNJ