Last Friday I purchased 50 shares of Gilead Sciences, Inc (NASDAQ: GILD) stock at $102.01 per share, totaling $5,100.50. Gilead Sciences is the first Biotech stock in my Investment Hunting portfolio. This is the final purchase made with my 401k and Roth 401k rollover funds; I have also recently purchased Philip Morris, Aflac, AT&T, MetLife, Starwood, Reliance Steel and JNJ.
Overview of Gilead Sciences
Gilead Sciences, Inc. is a research-based biopharmaceutical company that discovers, develops and commercializes innovative medicines in areas of unmet medical need. The Company's primary areas of focus include human immunodeficiency virus (HIV), liver diseases such as chronic hepatitis B virus (HBV) infection and chronic hepatitis C virus (HCV) infection, oncology or inflammation and serious cardiovascular and respiratory conditions. The Company has operations in North America, Europe and Asia Pacific. The Company's products include Atripla, Truvada, Viread, Complera/Eviplera, Emtriva, Hepsera, Letairis, Ranexa, Lexiscan/Rapiscan, AmBisome, Vistide, Macugen, Cayston and Tamiflu.
Gilead Sciences Dividends and Metrics
Gilead Sciences has not paid dividends in the past. However, on February 3rd, 2015 the company announced its first quarterly dividend of $0.43 and a $15 Billion dollar share buyback program.
Is Gilead Stock Fairly Priced
GILD is currently trading at a P/E ratio of 13.88. F.A.S.T graphs shows that over the past five years the normal PE Ratio for GILD has been 19.5. The chart also shows that GILDs P/E Ratios is heading down.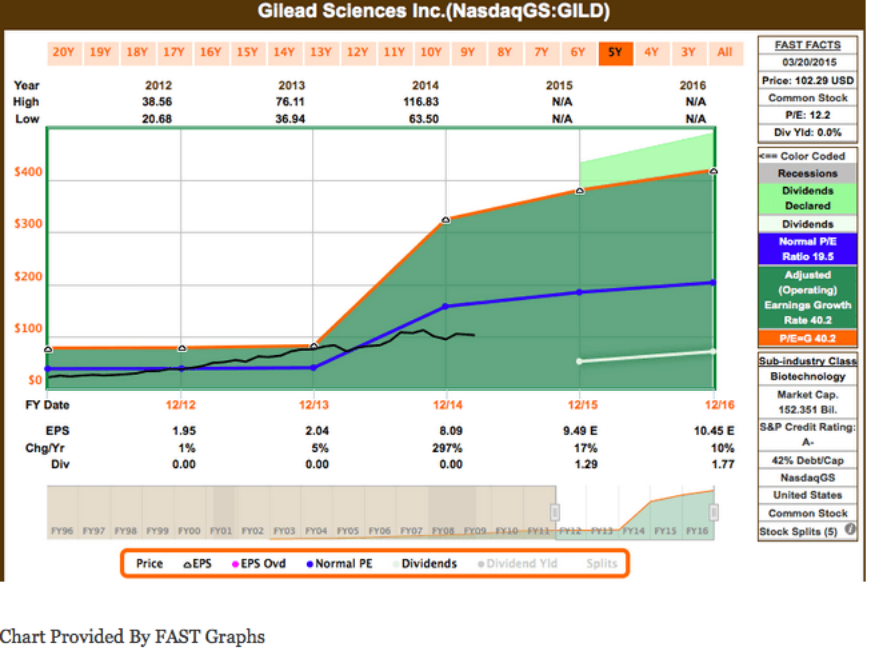 Morningstar ranks GILD as 4-stars and undervalued with a share price estimate of $114.
S&P Capital IQ ranks GILD as 5-stars with a fair price of $150.60.
This stock is clearly undervalued.
Gilead Earnings Per Share and Sales Growth
1-year EPS Growth of 305.20%
5-year EPS Growth of 39.10%
1-year EPS Growth Forecast – 18.09%
3 to 5-year EPS Growth Forecast – 13.62
1-year Sales Growth of 122.20%
5-year Sales Growth of 28.84%
Other Key Metrics
Gross Profit Margin — 84.78%
Operating Profit Margin — 61.33%
Net Profit Margin — 48.45%
Cash Flow Per Share — $7.97
Cash Per Share — $6.76
Gilead Sciences Conclusion
Buying Gilead Sciences stock adds a Biotechnology stock to my Investment Hunting Portfolio. GILD is growing quickly and the company still has 10+ years on its primary drugs before patent expiration. Gilead recently announced a quarterly dividend program. I believe now is the time to buy GILD stock.
What is you opinion of the Gilead Sciences? Now that Gilead has announced a dividend, do you think the company will continue paying dividends?
Full Disclosure: Long GILD