Yesterday I purchased 150 shares of AT&T Inc. (NYSE: T) stock at $33.34 per share, totaling $4,986. This latest purchase of AT&T takes my total shares owned to 202. This purchase will add $282 dollars to my annual dividend income. My total shares of AT&T will provide $380 to my annual dividends. I have been wanting to add more AT&T stock to my Investment Hunting portfolio. This is the third purchase I have made with my 401k and Roth 401k rollover funds; the first being Philip Morris and the second was Aflac.
I made an additional 5 purchases totaling roughly 25% of my rollover amount. My remaining funds will be added back to the market over the next 6 to 9 months. Please look for additional posts on each purchase over the next few days.
AT&T Overview
AT&T Inc. provides telecommunications services worldwide, with the United States as its primary focus. Products and service lines include wireless communications, local exchange services, long-distance services, Internet services, video services, telecommunications equipment, managed networking, wholesale services and directory advertising and publishing.
AT&T operates three segments: Wireless, Wireline, and Other. The Company's Wireless subsidiaries provide both wireless voice and data communications services across the United States, and through roaming agreements internationally. Wireline subsidiaries provide landline voice and data communication services, U-verse high-speed broadband and voice services and managed networking to business customers. The AT&T Other segment provides operator services, corporate and other operations.
AT&T Dividend Growth Rate And Yield
3-Year Dividend Growth Rate of 2.2%
5-Year Dividend Growth Rate of 2.3%
10-Year Dividend Growth Rate of 3.9%
Annual Dividend Yield of 5.66%
5-Year Dividend Per Share Average of $1.76
5-Year Dividend Yield Average of 5.53%
The chart below shows that AT&T has increased annual dividends by 2% each year the past five years.

Is AT&T Fairly Priced
AT&T is currently trading at a P/E ratio of 27.82. A quick look at F.A.S.T graphs shows that AT&T is slightly under its normal market P/E ratio.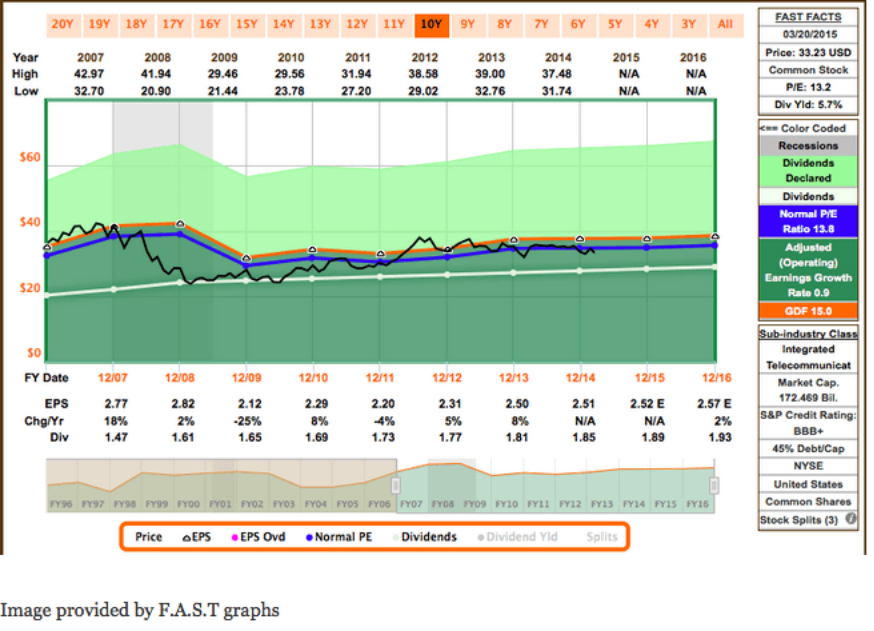 Morningstar ranks T a 3-star stock with a price target of $33.
S&P Capital IQ ranks T as 3-stars with a price target of $31.62.
Argus lists T as a buy with a price target of $42.
Two of the three analysis firms I listed value T shares lower than the price I paid. I think this stock is fairly valued at the price I paid. I do not expect this stock to knock my socks off. I expect consistent quarterly dividends at a high yield. This is why I purchased AT&T stock.
AT&T Risks
Risk 1 – A big portion of revenue and cash flow still comes from fixed-line local and long-distance phone services. This is a dying portion of the business. Also competition is this area is steep. AT&T will continue to lose wired customers as individuals and businesses move to cheaper alternatives or eliminate these costs entirely.
Risk 2 – iPhone contract expiration. Gone are the days when AT&T was the only iPhone service provider. Customers have been and will continue to switch to other carriers. AT&T will lose iPhone share in coming years. This loss will increase if competitors continue to make it easier to break contracts.
Conclusion
AT&T is a steady dividend generator. I think it is safe to say that T stock is not sexy. However, AT&T yield is sexy. As a dividend investor, I like high yielding stocks. I plan on taking my dividends and buying new stocks. AT&T will help me fund new purchases and add to existing positions.
What's your opinion of AT&T? Do you think T can maintain its dividend?
Full Disclosure: Long AT&T