Yesterday I purchased 50 shares of MetLife Inc (NYSE: MET) stock at $50.77 per share, totaling $2,538.50. This purchase will add $70 dollars to my annual dividend income. I am happy to have added MetLife and Snoopy to my Investment Hunting portfolio. This is the fourth purchase I have made with my 401k and Roth 401k rollover funds; I have also recently purchased Philip Morris, Aflac, and AT&T.
I made an additional 5 purchases totaling roughly 25% of my rollover amount. My remaining funds will be added back to the market over the next 6 to 9 months. Please look for additional posts on each purchase next week.
An Overview of MetLife
MetLife, Inc. provides insurance, annuities and employee benefit programs. MET has over 90 million customers in 50 countries. MET operates in the United States, Japan, Latin America, Asia Pacific, Europe and the Middle East. MET operates in six segments: Insurance Products, Retirement Products, Corporate Benefit Funding and Auto & Home, Japan and Other International Locations. The MET umbrella also includes MET Bank.
MetLife Dividend Growth Rate And Yield
3-Year Dividend Growth Rate of 9.6%
5-Year Dividend Growth Rate of 5.7%
10-Year Dividend Growth Rate of 7.8%
Annual Dividend Yield of 2.71%
5-Year Dividend Per Share Average of $0.84
5-Year Dividend Yield Average of 2.05%
The chart below shows MET dividends over the past 8-years. From 2007 to 2012 annual dividends were flat. Since 2012, MET has increased dividends 36% and 31%.
Is MetLife Stock Fairly Priced
MetLife is currently trading at a P/E ratio of 9.51. F.A.S.T graphs shows that MET is trading just under its normal market P/E Ratio.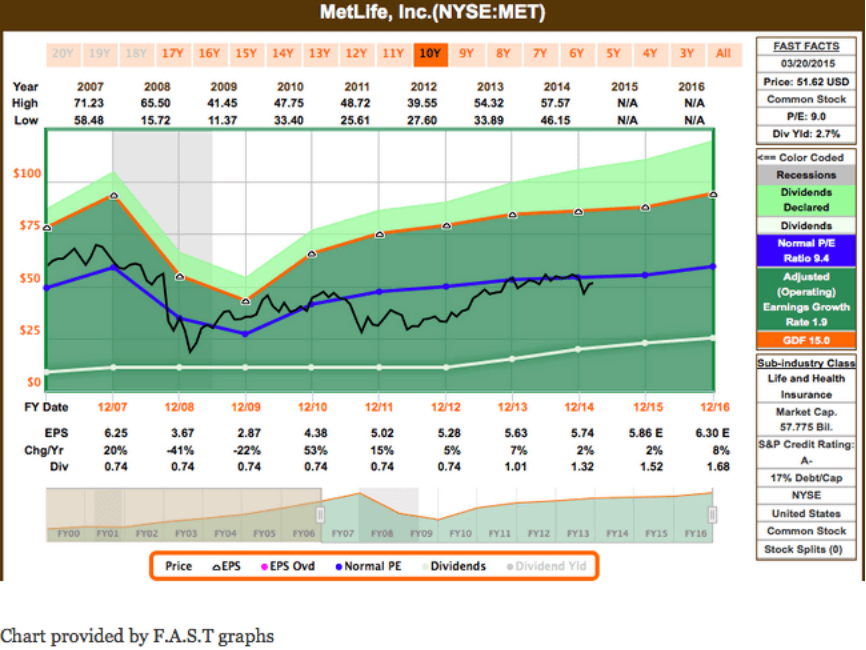 Morningstar ranks MET a 3-star stock with a price target of $55.
S&P Capital IQ ranks MET as 4-stars with a price target of $59.40. Argus places a MET fair value price of $62.
Based on F.A.S.T graphs and market analysts, I feel that MET is a good buy and slightly undervalued.
MetLife Earnings Per Share and Sales Growth
1-year EPS Growth of 87%
1-year Sales Growth of 7.33%
5-year Sales Growth of 12.54%
Other Key Metrics
Dividend Payout Ratio — 24.22%
Operating Profit Margin — 13.66%
Net Profit Margin — 8.64%
Cash Per Share — $9.55
MetLife Risks
All investing comes with risk. International performance has been volatile the past 4 quarters. International under performance primarily in Japan combined with a strong U.S. dollar could hurt MET sales and revenue in the short-term. Additionally, Latin America is the fasted growing segment of MetLife's business. Weak currencies could hurt this segments performance.
Conclusion
MetLife is a well run company with a bright future. I really like the fact that MET has a low dividend payout ratio under 30%. MET has increased dividends substantially the past two-years. I am hopeful that once currencies settle MET will continue with double-digit dividend increases.
What is you opinion of the MetLife? Do you think MET is positioned for future success?
Full Disclosure: Long MET