Wal-Mart Stores Inc, (NYSE: WMT), stock has been heading south the past few months. The stock finally fell to a point where I am ready to buy. I bought 30 shares at $63.33 per share, totaling $1,906.85. This share total will add $58.80 dollars to my annual dividend income. WMT is latest addition to my portfolio.
An Overview of Wal-Mart
Wal-Mart Stores, Inc. is engaged in the operation of retail, wholesale and other units in various formats around the world. The Company offers an assortment of merchandise and services at everyday low prices (EDLP). The Company's operations are conducted in three segments: Walmart U.S., Walmart International and Sam's Club. The Walmart U.S. segment operates retail stores in all 50 states in the United States, Washington D.C. and Puerto Rico, with three primary store formats, as well as digital retail. The Walmart International segment consists of operations in 26 countries outside of the United States and includes numerous formats divided into three main categories: retail, wholesale and other. The Sam's Club consists of membership-only warehouse clubs and operates in 48 states in the United States and in Puerto Rico, as well as digital retail. Source: http://www.schwab.com.
Wal-Mart Dividends And Annual Growth Rate
3-Year Compound Annual Growth Rate of 9.6%
5-Year Compound Annual Growth Rate of 12%
10-Year Compound Annual Growth Rate of 14%
Annual Dividend Yield of 2.70%
5-Year Dividend Per Share Average of $1.61
5-Year Dividend Yield Average of 2.27%
Payout Ratio of 39.87%
The chart below shows the past seven years of annual dividends for the Wal-Mart. The chart illustrates commitment to creating shareholder value through dividend increases.

Is Wal-Mart Stock Fairly Priced
F.A.S.T Graphs shows that Wal-Mart has danced the valuation line the past 5-years. From mid 2014 until recently the stock was overvalued, however, today the stock is trading at the blue line. This means WMT is fairly valued.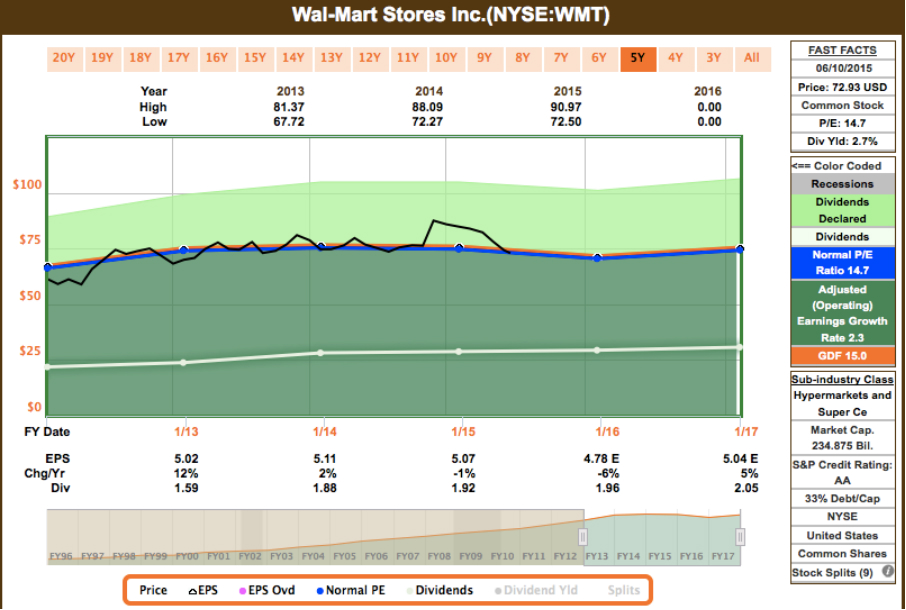 S&P Capital IQ ranks WMT as 4-stars with a target price of $86. Morningstar ranks Wal-Mart as 4 stars with a fair price of $81.
Wal-Mart Earnings Per Share and Sales Growth
1-year EPS Growth of 1.72%
5-years EPS Growth of 5.87%
1-year EPS Growth Forecast of 5.61%
5-year EPS Growth Forecast of 10.00%
1-year Sales Growth of -5.64%
Profitability
Gross Profit Margin, 24.85%
Operating Profit Margin, 5.49%
Net Profit Margin, 3.37%
Cash Flow Per Share (TTM), $7.91
Book Value/Share (MRQ), $23.73
Enterprise Value, $280.76B
Financial Strength
Current Ratio, 0.89
Quick Ratio, 0.23
Long-Term Debt, $42.96B
Long-Term Debt to Capital, 32.99
Total Debt to Capital, 38.57
Management Effectiveness
Return on Assets, 8.13%
Return on Equity, 21.16%
Return on Investment, 12.74%
Wal-Mart Risks
All investing comes with risk. I believe opportunity outweighs risk in the case of Wal-Mart. Risk 1 – Online commerce could cannibalize Wal-Mart's in-store sales. This could leave WMT at a cost disadvantage relative to online competitors because of physical store operating costs. Risk 2 – Internationalization is a segment WMT needs to grow in yet many international locations have shown poor return on assets. The company needs to focus on improvement internationally. Risk 3 – Capturing the younger crowd. Wal-Mart is perceived to be a boring and somewhat of a bully. Can WMT capture future customers?
Wal-Mart Conclusion
Wal-Mart is a fantastic stock to hold in a DGI portfolio. The company has a proven rack record of generating returns for investors. WMT stock has taken a beating lately which has created in my opinion a buying opportunity. I am happy to add more shares of WMTt to my portfolio.
What is your opinion of Wal-Mart? Which stocks are you buying these days?
Full Disclosure: Long WMT