And Q4 begins. 2015 has been an interesting year for the stock market. Most of us were begging for a correction, but now that a correction is upon us it's tough to swallow. I love that there are deals to be had, however, when I see my portfolio value dip I still get nervous. On the flip side my dividends are continuing to increase. At times like these I lean on my dividends to reassure me that I am on the wrong path. This past month was a record month for me by way of dividends collected. For the rest of 2015, my plan is to reduce my buys, but target specific deals in sectors where I don't have much coverage. I did not post an August update, so this post covers the past 60 days. This month, I purchased $16,687 in shares of 9 companies. I also sold $25,823 in shares of 10 companies.
Investment Hunting Net Worth Update
In the month of September, I made the following Investment Hunting portfolio updates:
Purchased
Emerson Electronics – 25 shares, totaling $1,108.20
Gilead Science – 20 shares, totaling $2,076.95
Amgen – 20 shares, totaling $2,648.95
BP – 75 shares, totaling $2,291.69
United Technologies – 12 shares, totaling $1,107.91
Wal-Mart – 30 shares, totaling $1,906.85
General Electric – 49 shares, totaling $1,230.97
Union Pacific Railroad – 15 shares, totaling $1,337.45
Realty Income Corp – 67 shares, totaling $2,977.72
Sold
I sold shares in 10 companies in August and September totaling $25,823.48. I took advantage of a temporary upside in the market to lock in gains on these stocks. There are a lot of deals now and I needed cash to execute my new buys. I like all the stocks I sold and will likely add them back as time and the market permits.
McDonalds – 12 shares, totaling $1,144.77
Walmart – 36 shares, totaling $2,369.71
Coca-Cola – 36 shares, totaling $1,431.13
Travelers – 30 shares, totaling $2,976.60
Valero – 40 shares, totaling $2,331.99
Harley Davidson – 75 shares, totaling $4,103.97
Reliance Steel – 20 shares, totaling $1,146.39
Aflac – 50 shares, totaling $2,910.17
ONEOK – 80 shares, totaling $2,824.76
Bank of Nova Scotia – 100 shares, totaling $4,583.99
Net Worth Update – September 2015
Month over month, my portfolio, 401k and Roth 401k are as follows:
Net Worth Portfolio Update
The total value of my investment accounts at the end of September 2015 totaled $149,912. This is down $12,814 over the past 60-days from a total of $162,726.09 on July 31st. This number represents the chart below which has, $21,000 in cash plus $$128,912 in stocks.
Net Worth 401k and Roth 401k Update
My 401k fund update as of July 31st, 2015 was $12,870.14.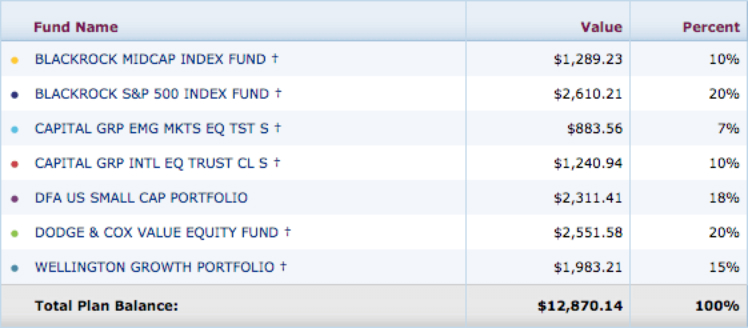 Net Worth Month Over Month Update
When everything is added up, my month over month net worth went up from $171,800 down to $162,782. This is a $9,018 decrease from July to September. It's sad to see my portfolio value drop, but I know in the long run I am on the right path. I'm looking forward to a successful Q4.
Full Disclosure: Long MO, KMI, O, WMT, NOV, COP, CVX, KO, WFC, DLR, DPS, GE, JNJ, OHI, T, F, COST, PM, MET, , GILD, STWD, LL, TROW, HOG, CNI, TIS, CSCO, CPA, ROYT, OKE, CMI, BP, EMR, UNP, UTX
How did your portfolio perform in September? Are you buying stocks now or waiting or an interest rate increases? If you're buying stocks, what are you buying?