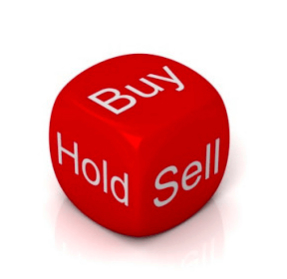 I closed out September with one more stock buy. I bought and sold a lot stock in September. I added a stock that has been on my watchlist the past 2-years. I bought 25 shares of Emerson Electric at $43.97 per share, totaling $1,099.25. This purchase adds $47 to my annual dividend income.
Emerson Electric Overview
Emerson Electric Co. is engaged in offering technology and engineering together that provides solutions for customers in industrial, commercial, and consumer markets around the world. The company operates through five business segments: Process Management, Industrial Automation, Network Power, Climate Technologies, and Commercial & Residential Solutions. The Process Management segment provides measurement, control and diagnostic capabilities for automated industrial processes. The Industrial Automation segment provides integrated manufacturing solutions to its customers at the source of manufacturing their own products. The Network Power segment designs, manufactures, installs and maintains products providing grid-to-chip electric power conditioning. The Climate Technologies segment provides products and services for the climate control industry. The Company's Commercial & Residential Solutions segment offers a range of tools, storage products and appliance solutions. Source: www.schwab.com.
EMR Dividends And Dividend Growth Rate
Annual Dividend Yield of 4.33%
5-Year Dividend Per Share Average of $1.54
5-Year Dividend Yield Average of 2.90%
3- Year Dividend Growth Rate of 7.6%
5- Year Dividend Growth Rate of 5.4%
10- Year Dividend Growth Rate of 8.0%
Payout Ratio (TTM) of 50.97%
Dividend Coverage Ratio (TTM) of 196.19%
The chart below shows the past 8 years of annual dividends for EMR. While none of the annual increases are dramatic, they are steady. The past 10-years EMR has a dividend growth rate of 8% per year.

Emerson Electric Valuation
S&P Capital IQ ranks EMR as 3-stars, a hold with a fair value calculation of $45.50 and a 12-month target price of $55.
Morningstar ranks EMR as a buy, 5-stars with a fair value of $62.
The F.A.S.T Graph below shows that EMR has fallen below the blue line. For those of you unfamiliar with this tool, when the black line falls below the blue line this indicates a stock is undervalued. The graph shows that EMR has not been below the blue line since Q3 of 2013.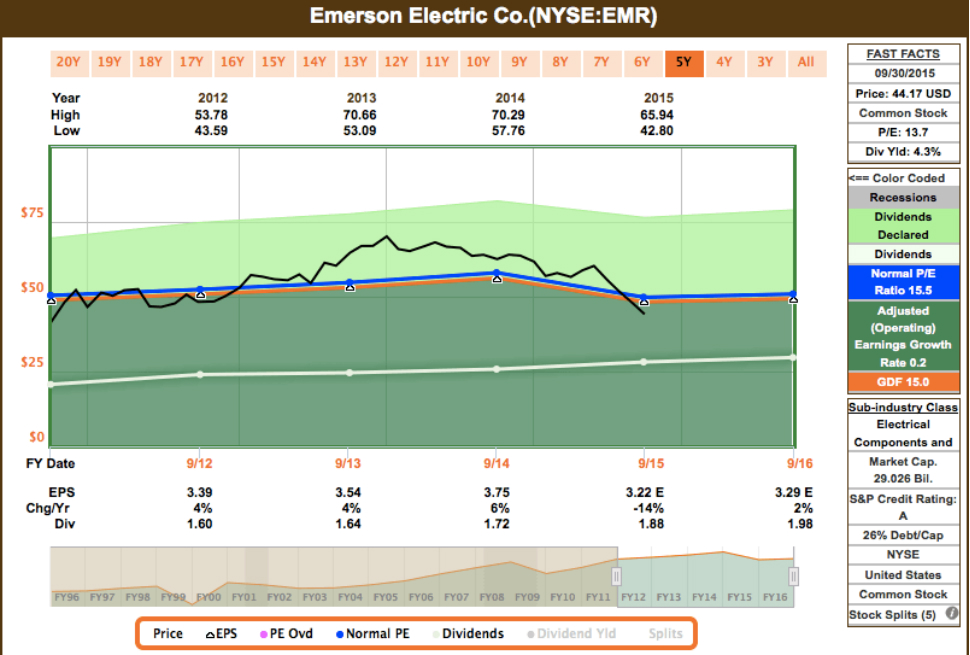 Risks
All investing comes with risk and EMR is not immune.
Weakness in the energy sector. One third of EMRs 2014 sales came from this sector. If energy continues to lag it could hurt EMR profitability in the future.
EMR has expanded quickly into emerging markets, which could be a huge win or a huge loss for the company.
A strong U.S. dollar could hurt EMR especially if an economic downturn occurs in Europe or Asia.
These risks concern me but honestly, these risks can be said for may global companies. I like my odds with EMR due to managements commitment to creating shareholder value. Over the past 10-years, EMR has distributed 80% of its FCF through dividends and share buybacks. I don't see this commitment to shareholders changing anytime soon.
Conclusion
Emerson Electronics is a leader in process automation, which has established the company as a leader of industry. Emerson has a large international presence and is viewed as a leader in emerging markets. In my opinion, EMRs temporary stock price drop is a consequence of a market downturn and not the company itself. Because of this I am happy to add EMR stock to my portfolio.
What do you think of my Emerson Electric buy? Are you an EMR shareholder?
Full Disclosure: Long EMR