Five months down, seven to go. 2015 is flying by and my dividend income is heading in the right direction. My dividend income update is my favorite post to write because I get to share my progress and review my progress against my annual dividend income goal. I also enjoy visiting the dividend blogger community of sites and seeing their dividend income update. My total dividend income received in May 2015 was $118.70.
One of my 2015 goals is to surpass $1,500 in dividends. I have currently received $719.05 or 47.9% of the way towards my goal. I am right on schedule to reach my goal. The new stocks I have been buying in March and April will start paying dividends next month. June will be my biggest dividend Income month ever. You can see all of my holdings by previewing my Investment Hunting portfolio.
May 2015 Dividend Income Update
My April dividend income update is as follows:

Dividend Income Update Year-Over-Year
This chart tracks my dividend on a year over year basis. My income went from $63.58 in May 2014 to $118.70 in May 2015.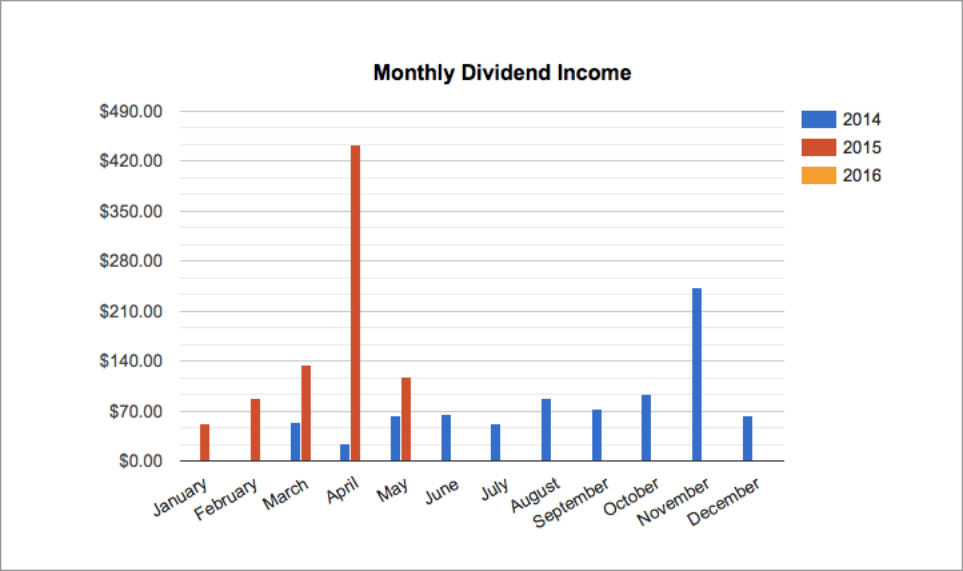 Full Disclosure: Long COST, T, OHI, HAS
Did you hit your dividend income targets for May? Do you invest for dividends or do you have a different strategy?