Adding UNP To My Dividend Portfolio. On Monday I added a new stock to my Investment Hunting portfolio. The market has been all over the board, which has led to some great deals on fantastic stocks. I've wanted to buy more railroad stock but in recent months these stocks have been expensive. I bought 15 shares of UNP stock at $88.70 per share, totaling $1,337.45. This purchase adds $33 to my annual dividend income.
UNP Overview
Union Pacific Corporation operates through its principal operating company, Union Pacific Railroad Company. The Company is a Class I railroad operating in the United States, which has 31,974 route miles and maintains coordinated schedules with other rail carriers to move freight. It links 23 states in the western two-thirds of the country by rail, providing a supply chain link around the world. Its business mix includes agricultural products, automotive, chemicals, coal, industrial products and intermodal. The Company serves United States population centers, operates from West Coast and Gulf Coast ports to eastern gateways, connects with Canada's rail systems and serves six Mexico gateways. The Company's freight traffic consists of bulk, manifest, and premium business. Source: www.schwab.com.
To learn more about Union Pacific Corporation visit the About Us section of the company website. You can download the 2014 UNP Fact Book here.
The charts below visually represent UNPs increases in operating income. Union Pacific has seen amazing growth the past 4-years.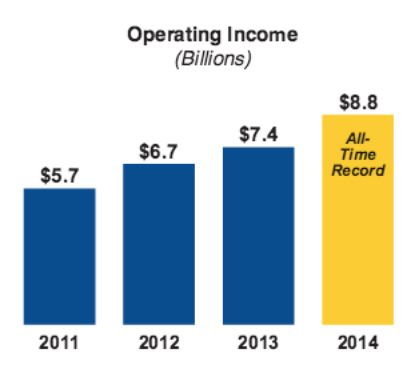 The next chart is a breakdown of revenue by freight type. This chart illustrates great product diversity and protection against sector downsides.
UNP Dividends And Dividend Growth Rate
Annual Dividend Yield of 2.54%
5-Year Dividend Per Share Average of $1.25
5-Year Dividend Yield Average of 1.72%
3- Year Dividend Growth Rate of 25.6%
5- Year Dividend Growth Rate of 28.7%
10- Year Dividend Growth Rate of 20.3%
Payout Ratio (TTM) of 35.94%
Dividend Coverage Ratio (TTM) of 278.25%
The chart below shows the past eight years of annual dividends for UNP. This chart visually represents the high rate of growth in dividends that Union Pacific has provided to shareholders.

UNP Valuation
S&P Capital IQ ranks UNP as 4-stars, a buy with a fair value calculation of $98 and a 12-month target price of $112.
Morningstar ranks UNP as a buy, 4-stars with a fair value of $114. Argus ranks UNP as a buy with a target price of $110.
Conclusion
Union Pacific is a fantastic company. It's a great buy and hold stock. I have wanted to buy Union Pacific for the past year, but it has been an expensive stock. Market downturns has created a fantastic buying opportunity for this stock. I am very happy to add UNP to my portfolio at a stock price of $88.70
What do you think of my Union Pacific buy? Are you buying stocks right now or waiting for a larger market adjustment?
Full Disclosure: Long UNP