Earlier this week I added a new stock to my Investment Hunting portfolio. The market has been hammering stocks, some more than others. United Technologies Corp is one of those companies that is being punished by the market. I decided to add UTX stock to my portfolio. I bought 12 shares of UTX stock at $91.58 per share, totaling $1,107.91. This purchase adds $30.72 to my annual dividend income.
UTX Overview
United Technologies Corporation (UTC) provides high technology products and services to the building systems and aerospace industries across the world. The Company operates through five segments: Otis; UTC Climate, Controls & Security; Pratt & Whitney; UTC Aerospace Systems and Sikorsky. Otis designs, manufactures, sells and installs a range of passenger and freight elevators for low-, medium- and high-speed applications, as well as a line of escalators and moving walkways. UTC Climate, Controls & Security is a provider of heating, ventilating, air conditioning (HVAC) and refrigeration solutions. Pratt & Whitney segment supplies aircraft engines for the commercial, military, business jet and general aviation markets. UTC Aerospace Systems is a global provider of technologically advanced aerospace products and aftermarket service solutions. Its Sikorsky segment manufactures military and commercial helicopters and also provides aftermarket helicopter and aircraft parts and services. Source: www.schwab.com.
To learn more about United Technologies Corp visit the Key Facts section of the company website.
The chart below shows UTX net sales by business unit.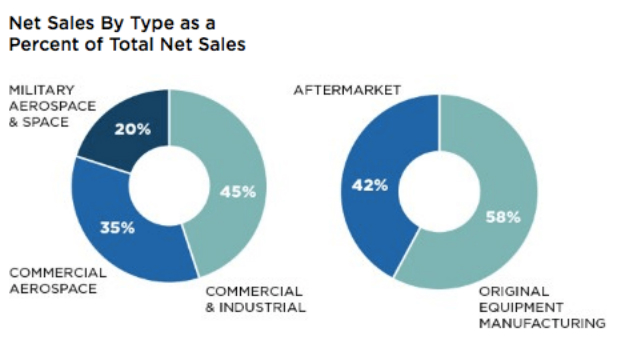 This next chart is a breakout of net sales by locale.
UTX Dividends And Dividend Growth Rate
Annual Dividend Yield of 2.94%
5-Year Dividend Per Share Average of $2.03
5-Year Dividend Yield Average of 2.24%
3- Year Dividend Growth Rate of 8.1%
5- Year Dividend Growth Rate of 8.9%
10- Year Dividend Growth Rate of 12.9%
Payout Ratio (TTM) of 33.65%
Dividend Coverage Ratio (TTM) of 297.21%
The chart below shows the past eight years of annual dividends for UTX. This chart visually represents the steady growth in dividends that UTX has provided to shareholders. I see no reason why dividends should not continue to increase at an 8% to 10% annual increase rate for the next few years.
UTX Valuation
S&P Capital IQ ranks UTX as 4-stars, a buy with a fair value calculation of $104 and a 12-month target price of $126.
Morningstar ranks UTX as a buy, 4-stars with a fair value of $120. Argus ranks the stock as a buy with a target price of $125.
Conclusion
Market volatility has created many buying opportunities. I have been adding to existing positions the past few weeks, but this time I thought why not add a new stock from my watchlist. United Technologies is a good company with a wide moat. The company has a low payout ratio and has shown a commitment to shareholder with a strong dividend policy. If the stock price dips in the coming months, I'll buy more shares. I like this purchase.
What do you think of my UTX buy? Are you buying stocks right now or waiting for a larger market adjustment?
Full Disclosure: Long UTX