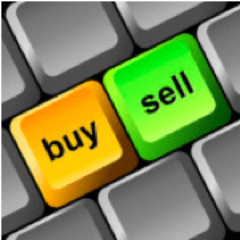 I purchased 50 shares of T. Rowe Price Group Inc, (NASDAQ: TROW) stock at $79.83 per share, totaling $3,991.50. At the current stock price this purchase will add $94 dollars to my annual dividend income. T. Rowe Price Group is latest addition to my Investment Hunting portfolio. Last month TROW raised its quarterly dividend from $0.44 to $0.52 per share.
An Overview of T. Rowe Price Group
T. Rowe Price Group, Inc. is a financial services holding company that provides global investment management services through its subsidiaries to individual and institutional investors in the sponsored T. Rowe Price mutual funds, investment portfolios, sponsored investment portfolios, and portfolios offered through annuity life insurance plans in the United States. The Company derives their revenue and income from investment advisory services provided by its subsidiaries, T. Rowe Price Associates and T. Rowe Price International Ltd. The Company's advisory services include management of stable value investment contracts and a distribution management service for the disposition of equity securities its clients receive from third-party venture capital investment pools. The Company also provides certain administrative services as ancillary services to its investment advisory clients which include mutual fund transfer agent, accounting, distribution, shareholder services and other services. Source: http://www.schwab.com
T. Rowe Price Dividends And Annual Growth Rate
3-Year Compound Annual Growth Rate of 51.8%
5-Year Compound Annual Growth Rate of 11.8%
10-Year Compound Annual Growth Rate of 21.9%
Annual Dividend Yield of 2.68%
5-Year Dividend Per Share Average of $0.61
5-Year Dividend Yield Average of 1.89%
The chart below shows the past six years of annual dividends for theT. Rowe Price Group. TROW has increased dividends 29-years in a row. The past four years TROW has paid 2 special dividends, 2012 and 2015.

Is T. Rowe Price Stock Fairly Priced
TROW is currently trading at a P/E ratio of 18.43. F.A.S.T graphs shows that over the past 5 years the normal PE Ratio for TROW has been 19.9.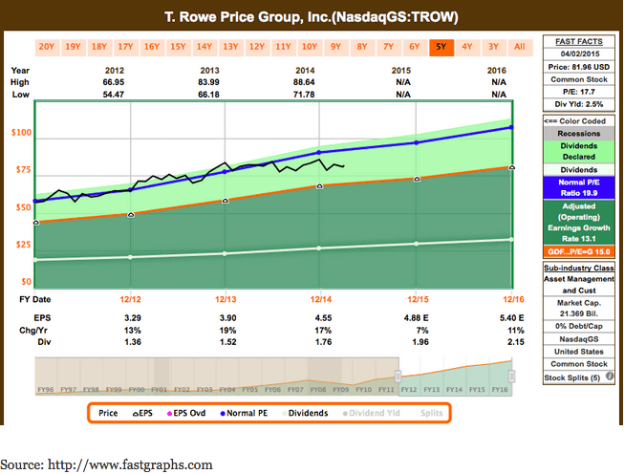 Morningstar ranks TROW as 3-stars with a fair share price estimate of $89. S&P Capital IQ ranks TROW as 4-stars with a fair price of $96.
Based on F.A.S.T Graphs and analyst opinion, TROW is undervalued.
T. Rowe Price Earnings Per Share and Sales Growth
1-year EPS Growth of 14.06%
5-yeas EPS Growth of 22.51%
1-year EPS Growth Forecast of 6.75%
5-year EPS Growth Forecast of 13.57%
1-year Sales Growth of 14.29%
5-year Sales Growth of 16.35%
Other Key Metrics
Dividend Payout Ratio — 38.02%
Operating Profit Margin — 47.49%
Net Profit Margin — 30.88%
Cash Flow Per Share — $4.91
Cash Per Share — $5.77
T. Rowe Price Conclusion
TROW has increased dividends for 29 consecutive years. TROWs dividend history is impressive especially considering there have two two market meltdowns in the past 16 years. TROW has no debt, zero, zilch! Robust revenues, no debt, and a payout ratio under 50%, make this an attractive stock. I am happy to have TROW as part of my portfolio.
What is your opinion of T. Rowe Price? Which stocks are you buying these days?
Full Disclosure: Long TROW