On Friday I made another Biotech purchase. Biotech is already suffering due to political agendas and market softness. A third trigger caused one of my favorite stocks, Gilead Sciences to take a nosedive. Morgan Stanley downgraded Gilead from "overweight" to "equal weight" This downgrade hurt the stock in AM trading by a few dollars. That's when I made my move. I bought 50 shares of Gilead Sciences, (GILD) at $96.92 per share, totaling $4,846.40. This purchase adds $86 to my annual dividend income.
Gilead Sciences is now the largest holding in my portfolio. I own 150 shares at a cost basis of $97.85 per share. This cost basis is continually dropping because Gilead is just volatile enough to be a great options trading stock. I have sold covered calls several times the past few months and will continue doing so during this downturn.
Gilead Sciences Overview
Gilead Sciences, Inc. (Gilead), is a research-based biopharmaceutical company that discovers, develops and commercializes innovative medicines. The Company's primary areas of focus include human immunodeficiency virus (HIV), liver diseases such as chronic hepatitis C virus (HCV) infection and chronic hepatitis B virus (HBV) infection, oncology and inflammation, and serious cardiovascular and respiratory conditions. The Company's HIV products include Stribild, Complera/Eviplera, Atripla, Truvada, Viread, Emtriva, Tybost and Vitekta. Its Liver Diseases products include Harvoni, Sovaldi, Viread and Hepsera. Zydelig is the Company's oncology product. Its Cardiovascular products include Letairis, Ranexa and Lexiscan/Rapiscan. Its Respiratory products include Cayston and Tamiflu. Its other products include AmBisome and Macugen.Source: www.schwab.com.
Gilead Sciences Dividends
Gilead is a new dividend player having only paid two dividends this year. I've been attracted to this stock for a while, but once the dividend was announced earlier this year I decided to add shares. This recent purchase is my 4th addition to my GILD holdings. The ratios below show a company with a massive dividend coverage ratio and a dividend payout ratio of less than 5%. There is plenty of room for future dividend increases. I expect GILD will position itself as a dividend growth machine.
Annual Dividend Yield of 1.75%
Annual Dividend Rate (IAD) $1.72
Payout Ratio (TTM) of 4.25%
Dividend Coverage Ratio (TTM) of 2,354.15%
Gilead Sciences Valuation
S&P Capital IQ ranks GILD as 5-stars, a strong buy with a fair value calculation of $188.40 and a 12-month target price of $155.
Morningstar ranks GILD as a buy, 4-stars with a fair value of $121.
Argus ranks GILD as buy, with a $150 price target.
The F.A.S.T Graph below shows that Gilead Sciences is well below the blue line. For those of you unfamiliar with this tool, when the black line falls below the blue line this indicates a stock is undervalued. Per the chart, Gilead is extremely undervalued.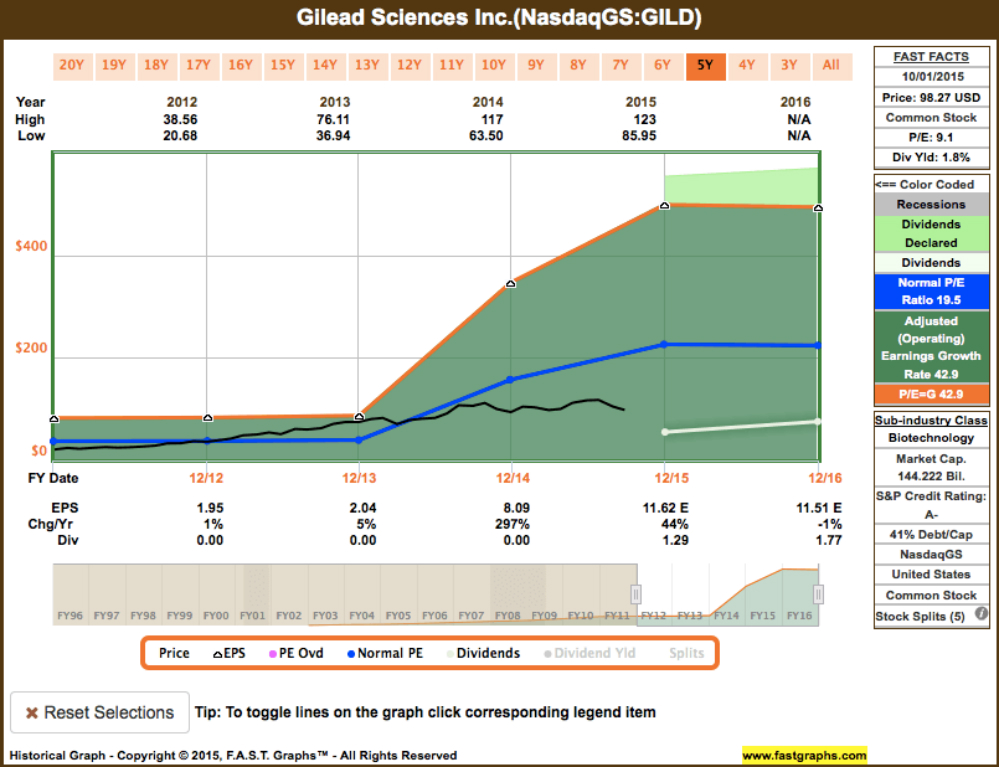 I thought Gilead was a deal when I bought it initially at $101, and I like it even more at its current price. In my opinion this is a seriously undervalued stock. Even Morgan Stanley listed a price target of $127 in its downgrade of Gilead.
Conclusion
Adding more Gilead Sciences stock at a price of $96.92 a share seems like a good bet for me and my portfolio. This purchase does take my exposure to Biotech stocks higher than I ideally want it to be. My plan is to either add more stocks in other sectors to re-balance or sell these 50 shares of Gilead in the near future for a handsome gain and put the money to work elsewhere. Gilead stock is known for large weekly swings, so if I choose to sell my hold time could be less than 30-days. For now I am happy to have my money sit with Gilead and collect dividends.
What do you think of my Gilead Sciences buy? Are you an GILD shareholder?
Full Disclosure: Long GILD