Another month down and another month closer to my goal of retiring on my dividends. I know this goal is years away, but it is really exciting for me to see the difference a month makes. Month over month, year over year, my dividends will continue to grow if I stay the course. My goal this year is to hit $1,500 in dividends. This was an aggressive goal prior to my decision to walk away from my employer. If you remember, changing jobs allowed me to rollover m 401k into an IRA, which has allowed me to buy dividend paying stocks. Since then, this has become the easiest of my 2015 goals. This month my dividends surpassed $1,500 for 2015! I have opted to not restate my goal for the remainder of the year and just set a new one next year, hopefully one that goes from $1,500 to $5,000.
Adding up my dividends received, I've currently earned $1,632.29 or 108% of my 2015 goal. I estimate that I will finish up 2015 with dividends totaling around $2,800. This total is amazing to me because my 2014 dividend total was $821.99. The power of dividend investing is awesome.
My Dividends
My dividends collected in July were as follows: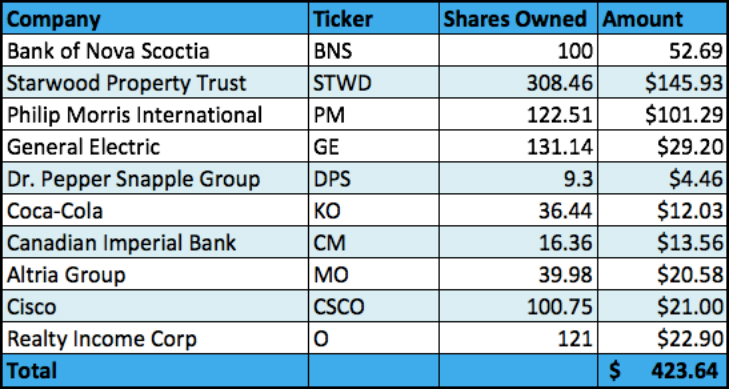 My Dividends – Year-Over-Year
This chart tracks my monthly dividends on a year over year basis. 2014 numbers are in blue and 2015 numbers are in red. My dividends in July went from $52.14 in 2014 to $423.64 in 2015. I am so happy with the increase in my monthly dividends collected year-over-year.
Full Disclosure: Long BNS, STWD, PM, GE, DPS, KO, CM, MO, CSCO, O
Did you hit your monthly dividend income targets in July? Do you invest for dividends or do you have a different strategy?