Welcome to my first dividend and options income post of 2017. Reporting monthly income is always my favorite post of the month. The year has started out good for me. I pulled in $575.41 in dividend income and $1,436.01 in options income. My total income for the month of January is $2,011.42.
I set a 2017 goal of $7,500 in 2016 dividend income and $7,500 in options income. To succeed, I need to keep up an average monthly total of $625 in dividends and $625 in options. After the first month of 2017, I'm slightly behind schedule on dividend income and slightly ahead of schedule on options income. I'm not worried, yet. I need to see how February and March turn out. March is a heavy dividend income month for me. March should offset lower returns from January and February.
January Dividend Income
I was paid by dividends from 17 stocks. The largest dividends came from Starwood Property Trust and Philip Morris. My average daily dividend income totaled $19.18; not enough to retire, but enough to buy a nice lunch.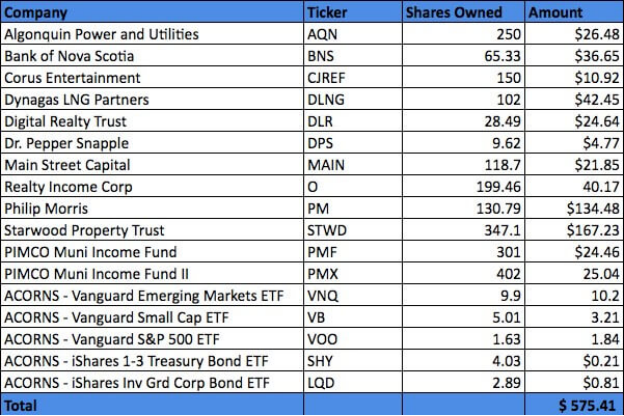 January Dividend Income – Year-Over-Year
The chart below tracks my monthly dividends earned on a year-over-year basis. My January dividend income is slightly up year-over-year. I made $48.30 more dollars this January, then last January.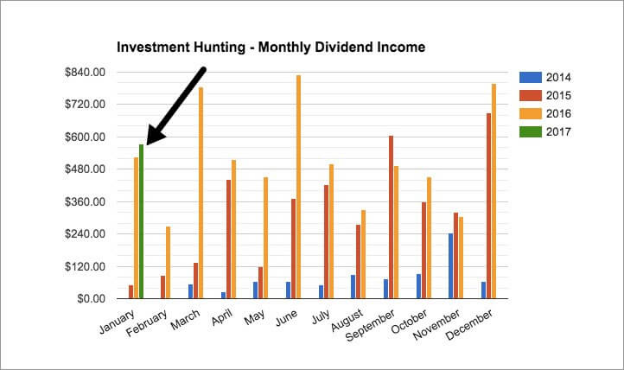 What was your January dividend income? Did you reach a milestone?