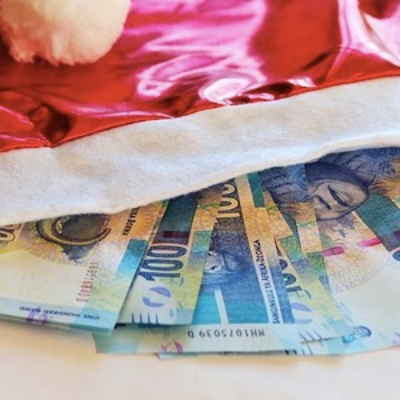 Welcome to my last 2016 income report, my December dividend income update. December is traditionally a heavy dividend income month. It was for me. I had my second largest dividend income month of the year. I'm really satisfied with where I ended up this past month and past year. I earned $796.87 in December dividend income. This amount added to my entire year of earnings totaled $6,259.72. This is a monthly average of $521.64. This is a sizable amount, especially considering I've been investing for a little over 2-years.
I set a goal of $7,500 in 2016 dividend income, I missed it by $1,240.28. But, I more than made up for it with options income. I wrote more about this in my 2016 Goals Retrospective post.
December Dividend Income
I was paid by dividends from 18 companies and 7 funds. The largest dividends came from my 401k small cap fund $174.31, and TGT, $60.00. My average daily dividend income totaled $26.56.
December Dividend Income – Year-Over-Year
The chart below tracks my monthly dividends earned on a year-over-year basis. 2014 numbers are in blue. 2015 numbers are in red. 2016 numbers are orange. As shown, My December dividend income is slightly up year-over-year. I made $106.10 more dollars this December.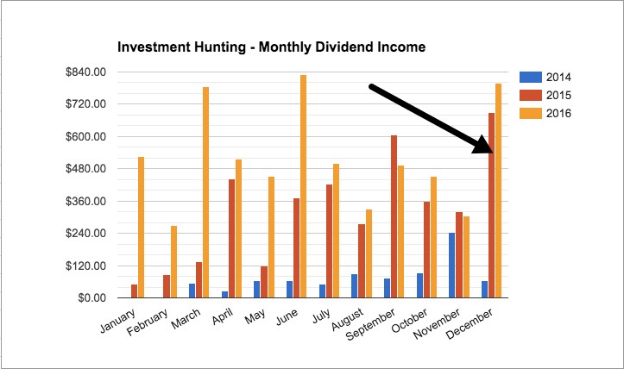 December Overall Income
My overall income, dividends plus options premiums is up from last month. I earned total revenue of $1,935.87. It breaks down to $796.87 in dividends, plus $1,139 in options premiums.
What was your December dividend income? Did you hit your December dividend income goal, or you annual dividend income goal?