Happy New Year everyone. For me, 2015 flew by. A new job, a daughter going to college, and a rapidly increasing monthly dividend are some of my highlights for this year. 2015 marks my first full year of investing. This year I saw my annual dividend income grow at an exponential rate. My dividends for 2016 are impressive as well. Barring any dividend cuts, next year I will see a 100% increase in annual dividends.
December was a record dividend month for me. This month I earned $690.77 in dividends. This amount added to my YTD dividends gives me 2015 dividend income of $3,885.11; which averages out to $324 a month. Looking ahead to next year, if I don't add any new money my forward dividends are $6,706; which averages $559 a month.
My Dividends
My dividends collected in December were as follows: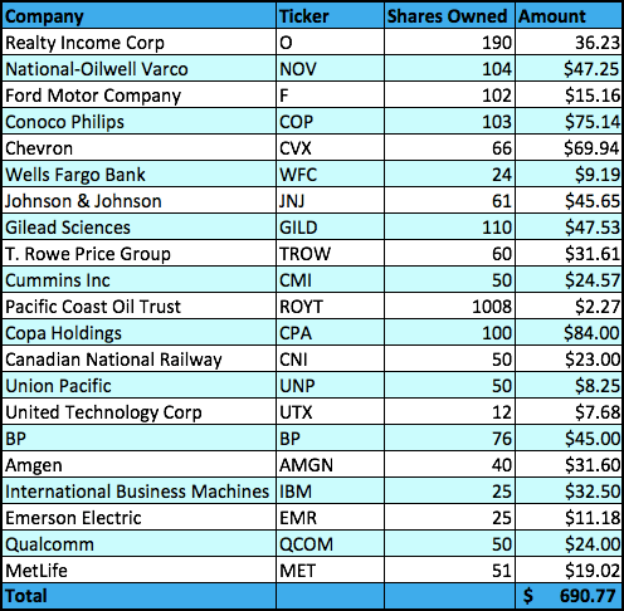 My Dividends – Year-Over-Year
This chart tracks my monthly dividend income on a year over year basis. 2014 numbers are in blue and 2015 numbers are in red. My dividends in December went from $63.70 in 2014 to $690.77 in 2015.
Looking at 2014 vs 2015 on the chart below really illustrates the one year increase in my annual dividends.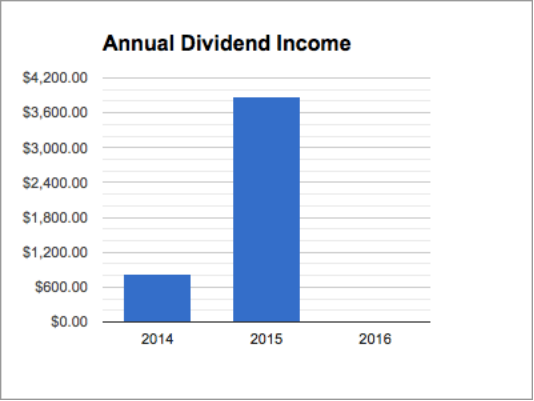 Full Disclosure: Long ROYT, O, NOV, F, COP, CVX, WFC, JNJ, GILD, TROW, CMI, CPA, CNI, UNP, UTX, BP, AMGN, IBM, EMR, QCOM, MET
Did you reach your monthly dividend income goals in December? Have you set a dividend target for 2015?