Another one of my watchlist stocks has been beaten down by the market. It get so excited when market conditions create a value opportunity on a stock I want to add to my portfolio. Anytime I can buy up a dividend champion or contender at a discount I am a happy investor. Qualcomm stock value is down 25% YTD, with the major portion of the drop, roughly 19% occurring in the past two weeks. Today I bought 50 shares of Qualcomm Inc, (QCOM) at $49.39 per share, totaling $2,469.50. This purchase adds $96 to my annual dividend income.
Qualcomm Overview
Qualcomm Incorporated (Qualcomm) is engaged in providing third-generation (3G), fourth-generation (4G) and next-generation wireless technologies. The Company's products include 2net, AllPlay, Brew, Gobi, Halo, HealthyCircles, Hy-Fi, IPQ, IZat, Pixtronix, Powerline, QChat, QLearn, Small Cells, Snapdragon, Vive, RaptorQ, Vuforia and WiPower. AllPlay helps manufacturers create devices and services. It also helps developers create Android and iPhone operating system (iOS) music streaming applications. The Company's Brew platform enables feature phone applications, such as gaming, messaging, Web browsing and social networking. Qualcomm Gobi modems connect users devices to 3G, 4G, and 4G long-term evolution (LTE) networks. Qualcomm Halo technology eliminates the need for plug-in cords for recharging in electric and hybrid vehicles. Qualcomm Powerline solutions turn electrical outlets into broadband connection points, creating networks by plugging in. Source: www.schwab.com.
Qualcomm Dividends
Annual Dividend Yield of 3.92%
Annual Dividend Rate (IAD) $1.92
Payout Ratio (TTM) of 55.63%
Dividend Coverage Ratio (TTM) of 179.77%
3 Year Dividend Growth Rate of 24.6%
5 Year Dividend Growth Rate of 20.1%
10 Year Dividend Growth Rate of 18.9%
The chart below shows the past eight years of dividend history for Qualcomm. This chart shows a commitment to shareholders as Qualcomm has raised its dividend annually by more than 10% per year each of the last 5 years.
Source: schwab.com
Qualcomm Valuation
S&P Capital IQ ranks QCOM as 5-stars, a strong buy with a fair value calculation of $69 and a 12-month target price of $68.
Morningstar ranks QCOM as a buy, 4-stars with a fair value of $68.
Argus ranks QCOM as buy, with a $80 price target.
The F.A.S.T Graph below shows that Qualcomm is well below the blue line. For those of you unfamiliar with this tool, when the black line falls below the blue line this indicates a stock is undervalued. As seen, Qualcomm has been below the blue line since 2012, however the stock is now well below which indicates a value. The most recent stock drop pushed the black line down even further, which is buy territory for me.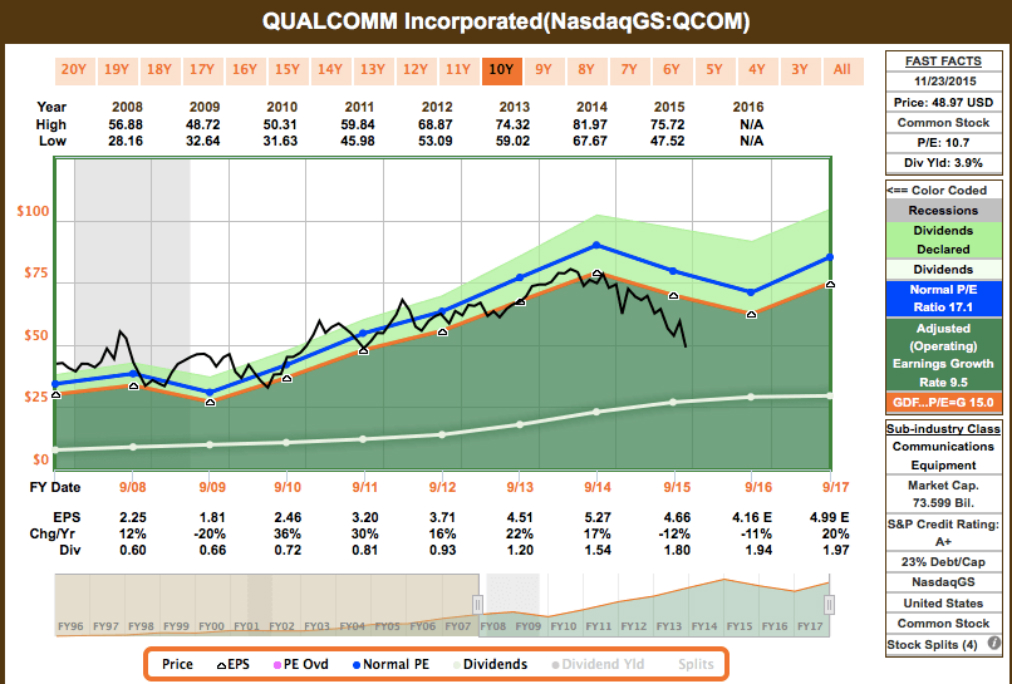 Conclusion
Getting a dividend contender at a discount is a good opportunity. This purchase gets me more coverage in the technology space and helps to reduce my portfolio over-allocation of energy stocks. QCOM has seen dropping revenues and the rumor mill always preaches this business demise as mobile payers like Apple and Samsung look for chip alternatives. Given this risk, I am still comfortable buying this stock at a discount. I'll just keep an eye on my portfolio of stocks and make adjustments when needed.
What do you think of my Qualcomm buy? Are you an Qualcomm shareholder?
Full Disclosure: Long QCOM