April 2015 fund updates. April was a good month for my portfolio. As mentioned in previous posts, I believe the market will correct at some point over the summer. Because of this I have kept a large portion of my rollover account in cash. I am waiting for the next correction to make my entry and hopefully scoop up great stocks at fantastic prices. I don't want my money to just sit in my brokerage account, so I have been learning about trading options. Fund updates – This month I made 20 options trades which added $1,201.00 to my brokerage cash account. I also bought seven stocks this month. For the month of April 2015 I invested $16,153.26.
Investment Hunting Portfolio Updates
In the month of April I made the following portfolio updates:
Purchased
Valero Energy Corp, VLO – 40 shares, totaling $2,408.95
T Rowe Price Group, TROW – 50 shares, totaling $4,107.95
JetBlue Airways Corp, JBLU – 100 shares, totaling $1,989.45
Lumber Liquidators Holdings, LL – 46 shares, totaling $1,575.91
Harley-Davidson Inc, HOG – 100 shares, totaling $5,721.00
McDonald's Corporation, MCD – 2.56 shares, totaling $250
Wal-Mart Stores Inc. WMT – 1.24 shares, totaling $100
McDonald's and Wal-Mart purchases are part of my monthly LOYAL3 purchases.
Updates – April 2015
Month over month, my portfolio, 401k and Roth 401k, and Savings/Emergency fund updates are as follows:
Portfolio Updates
As of March 31st, 2015, my portfolio was $77,215.51. I also had an additional $73,615.09 in cash. The total value of my investment accounts in March totaled $150,830.60. As of April 30th, 2015, My fund total was $98,070.28 invested and $60,877.34 in cash. The total value of my portfolio is $158,947.62. This represents a 5.3% increase month over month.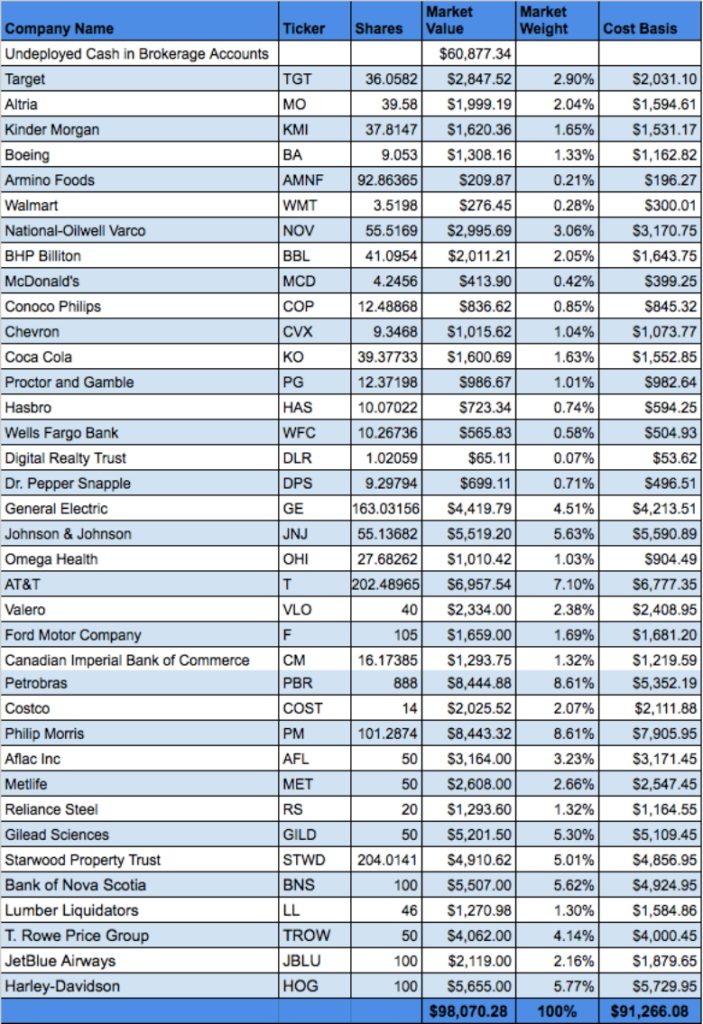 401k and Roth 401k Fund Update
April marks the first month of my new 401k and Roth 401k with my new employer. My 401k fund update as of April 30th, 2015 was $2,024.90.
Emergency Savings Fund Updates
My emergency savings account ended April at $48,439.32, which is up $11,516 from my March total. I carry no debt so this account fluctuates by $10,000 any given month. The reason for the rise in April was my new employer sign-on bonus and 2014 tax returns. May will be an expensive month because I am making my first payment for my daughter's college tuition.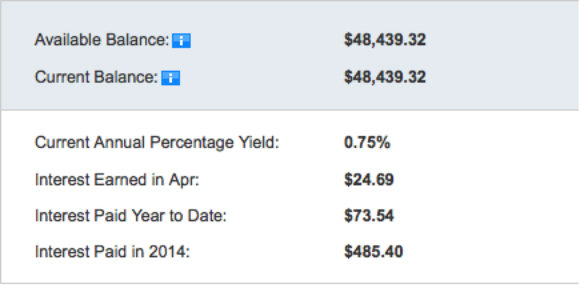 Month Over Month Fund Updates
Starting this month I will no longer add my emergency savings as part of my portfolio. This is the last month I will report my savings accounts. I figure that since my savings is available cash for expenses, I should not list it as part of my retirement fund.
When everything is added up, my month over month fund updates from April 2015 to May 2015 went up from $187,753.92 to $209,411.84. This increase adds $21,657.92 to my net worth.
Subtracting my emergency savings, my month over month actuals over the same time period went up from $150,830.60 to $158,947.62. This increase adds $8,117.02 to my net worth.
Full Disclosure: Long TROW, MCD, WMT, LL, JBLU, VLO, HOG